L'équipe remporte le prix du meilleur projet de l'école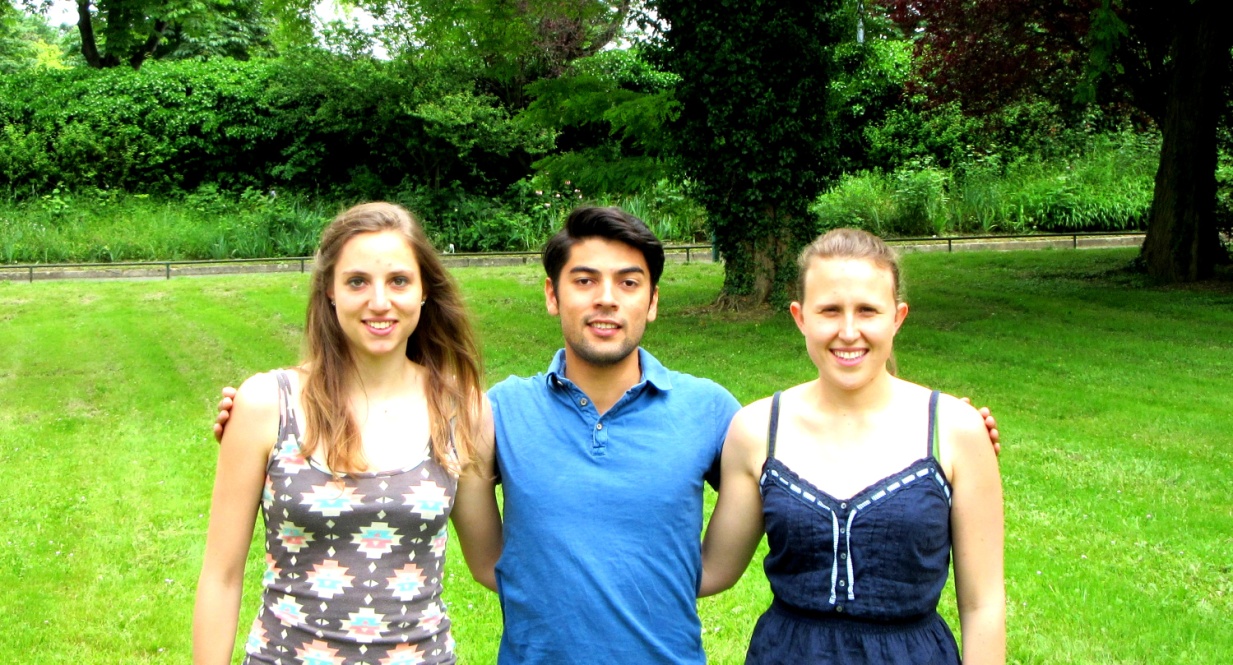 Elise Fournier-Bidoz, Fredrik Orstadius, Sophie Wohlgemuth
Dans le cadre du "Projet innovation" 2016 de l'Ecole Centrale Paris (Centrale-Supelec), notre équipe travaillant sur la technologie BIRDY a été élue dans les trois meilleurs projets par le Grand Jury de Centrale Paris. Notre équipe était constituée de deux élèves françaises, Elise Fournier-Bidoz et Sophie Wohlgemuth, et d'un suédois, Fredrik Orstadius, de Chalmers University of Technology.
In the context of Ecole Centrale Paris's "Innovation Projects" 2016 (Centrale-Supelec), the team working on the BIRDY technology was declared one of the three wining groups by the school's jury. The team was composed of two French students, Elise Fournier-Bidoz and Sophie Wohlgemuth, and a Swedish student, Fredrik Orstadius, from Chalmers University of Technology.
Elise Fournier-Bidoz, CentraleSupelec
L'année commence avec une visite de l'Observatoire de Meudon organisée par notre client, Boris Segret. Nous nous sommes tout de suite passionnés pour le sujet. Nous devions implémenter un PowerCalculator pour le CubeSat BIRDY, c'est-à-dire un programme complexe qui doit estimer l'énergie stockée dans les batteries du satellite, et qui tient compte de nombreux facteurs tels que les potentielles éclipses sur sa trajectoire ou encore le vieillissement de ses batteries.
En plus du challenge technique et scientifique, nous avons particulièrement apprécié le professionnalisme du projet. C'était très valorisant de travailler sur un projet international, en collaboration avec les équipes de l'Ecole Centrale Lille et de l'université NCKU à Taïwan. En février, Boris nous a invités à participer à un workshop. C'était une expérience inédite, l'occasion d'assister à la naissance d'un projet international, de comprendre comment les différents acteurs collaboraient entre eux, de rencontrer et de discuter avec des scientifiques de haut niveau, venus du monde entier.
Un facteur clef de réussite du projet a certainement été la parfaite entente entre les membres de l'équipe. Nous formions un trio impliqué, équilibré, soudé. Un travail constant, ainsi qu'un effort de flexibilité de chacun a résulté en une dynamique de groupe positive et efficace. De plus, l'entre-aide dans les moments de difficulté technique était essentielle dans la progression de notre travail. Nous reconnaissons tout de même qu'avoir une équipe soudée, c'est super, mais avoir en plus un client impliqué, c'est encore mieux ! Sans un client aussi présent, avec qui nous communiquions de façon très régulière, nous n'aurions jamais pu aller aussi loin. Boris a su nous rediriger en cas de dérive, nous donner les moyens d'avancer en prenant le temps de nous expliquer les choses.
Fredrik Orstadius, CentraleSupelec
At the beginning of our project I remember trying to reassure myself by saying "it's not rocket science". Although I knew it wasn't rocket science in the literal sense, I sensed that for someone like me, who had never done anything similar, it just as well could have been.
Despite all the challenges we encountered along the way when trying to create a "power calculator" for a Cubesat, we finally were able to succeed. In my opinion this fact in itself is a testimony both to the high educational standard of our school, Centrale Paris, and to the incredible drive and will of the Observatory of Paris to see this project through.
Maybe most importantly however, it shows that the infinite curiosity and fascination for space is as alive and well as it has ever been. This curiosity not only spans all nationalities (demonstrated by our multi-cultural group and by the collaboration between French and Taiwanese universities) but also all ages, from us younger students to the more experienced judges who chose to award our power calculator first place among all innovation projects in the school.